Kickstart your
marketing & sales with
Complete CRM
Turn your business into a revenue-generating machine with the most complete, marketing automation platform on the market today.
Complete CRM and Marketing Automation
Easily personalize your customer experience with integrated CRM and marketing automation.
Easily automate every part of your sales and marketing process with cutting-edge marketing automation. From customer journey mapping to workflows automation, and beyond, GreenRope makes it easy for you to attract, engage, and convert your leads and clients.
Get Started
Everything you need - all in one CRM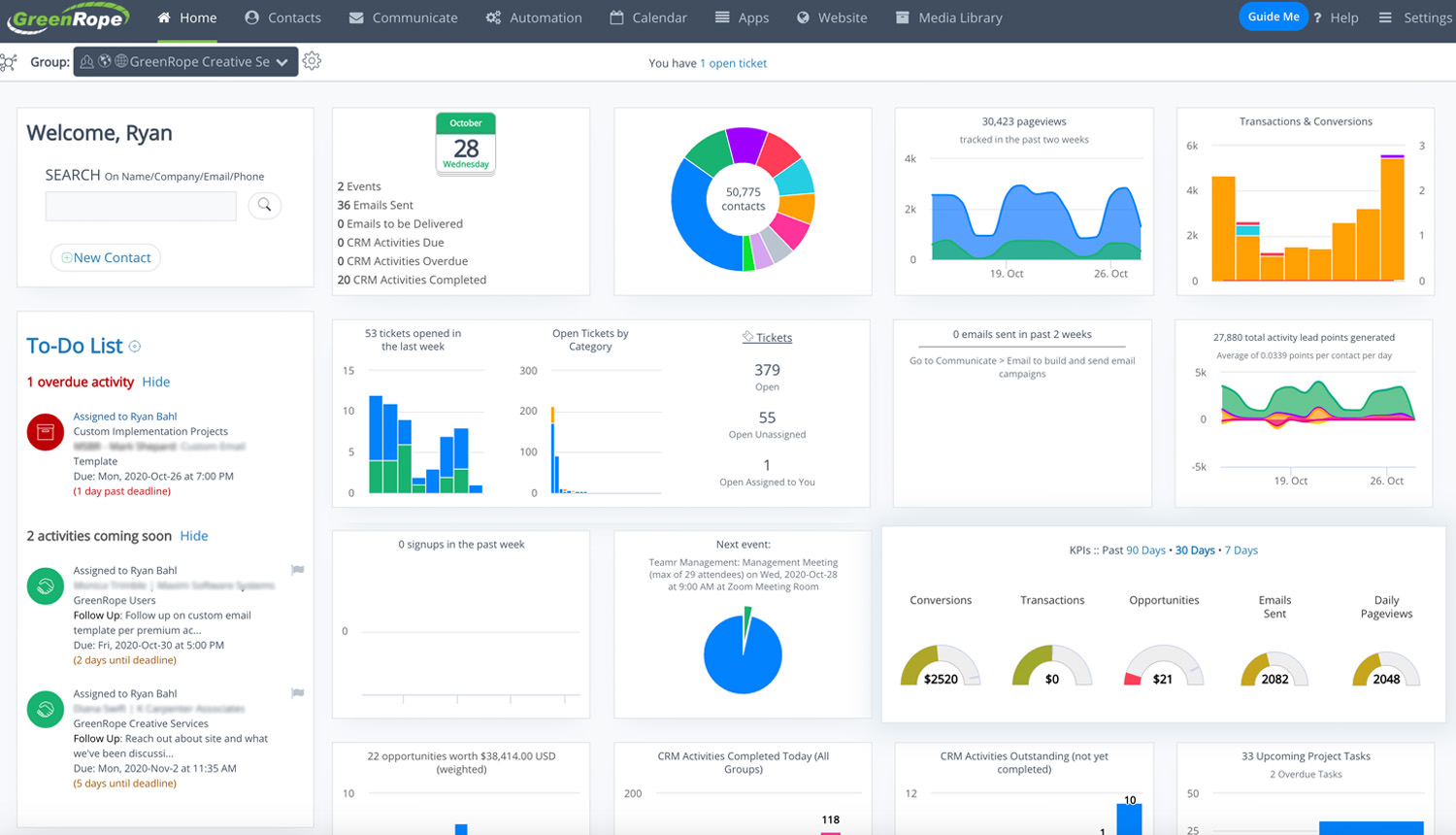 highlighted feature
Complete Visibility
Never miss a beat with real time visibility into everything that's happening in your business. From follow ups to email clicks, website visits, conversions, and more - everything is available to you all in one place.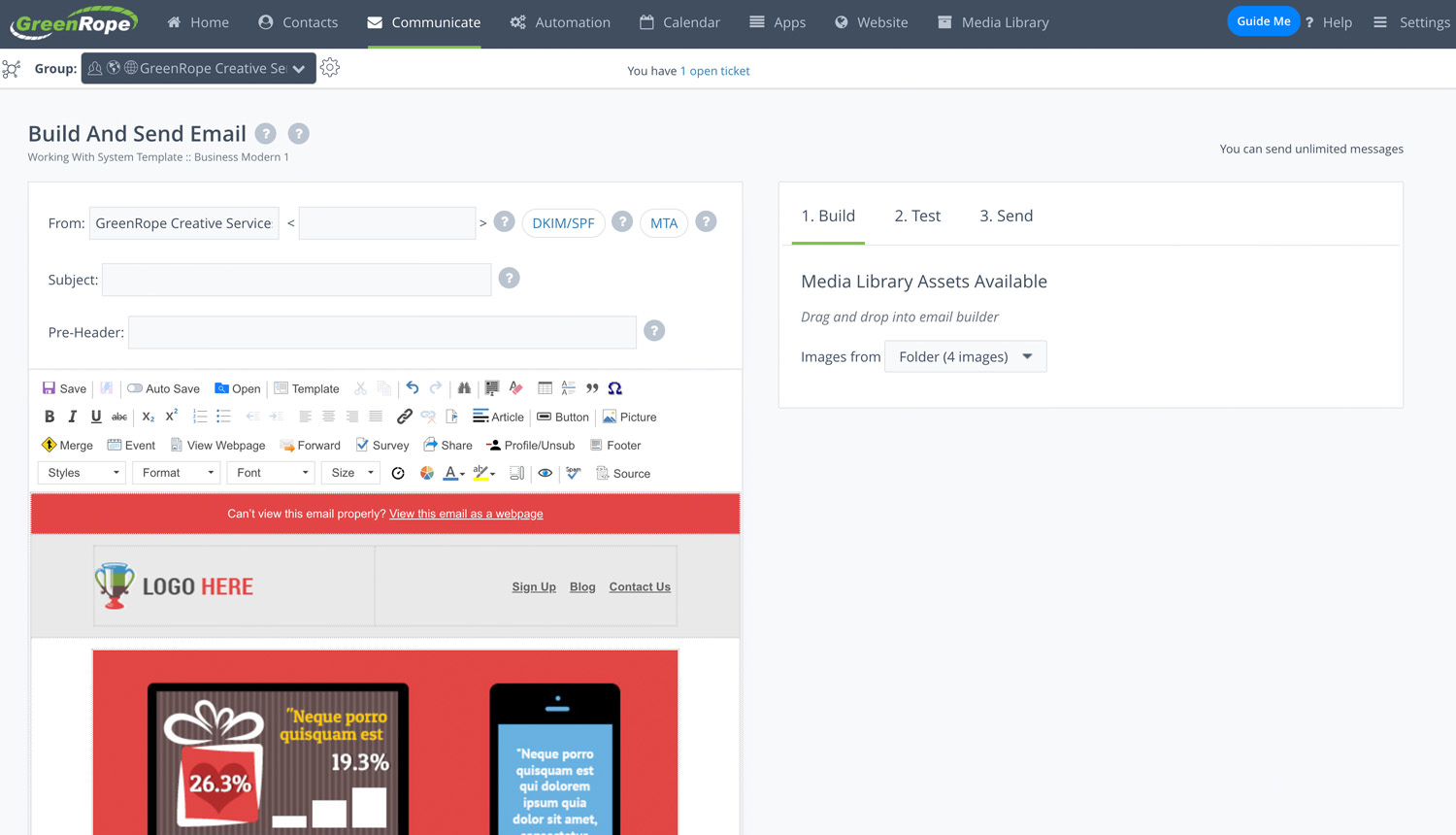 Complete Customer Experiences
Nurture your leads and customers with automated and personalized communication across all stages of the customer lifecycle.
The drag-and-drop journey mapping tool lets you completely customize each path your leads and customers take. Not to mention, automatically segment your contacts and send emails based on behavior and engagement insights powered by AI.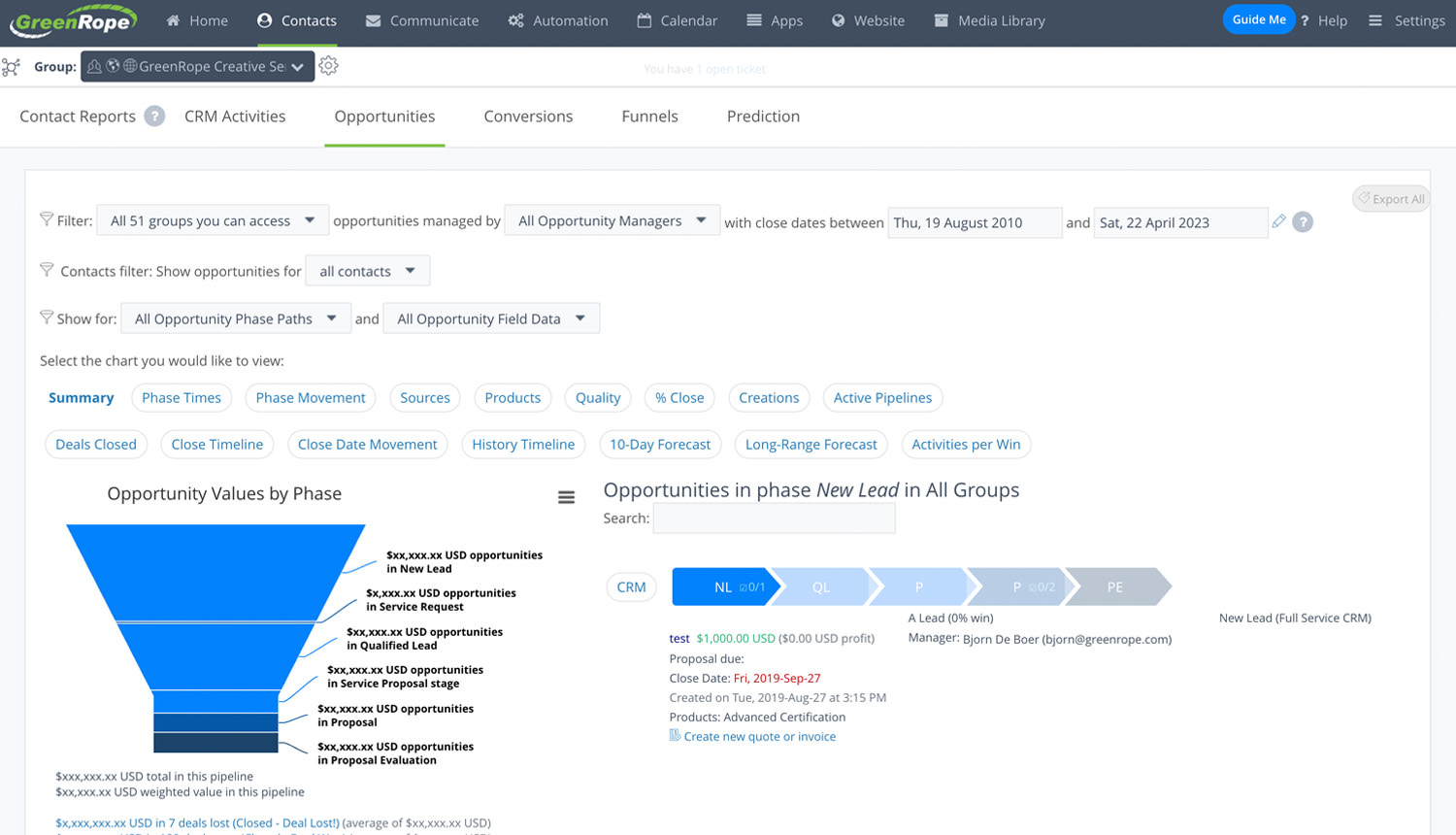 Align Sales & Marketing
Convert more leads and drive revenue
When you align sales and marketing, you create seamless customer experiences. Gather and use sales data to personalize your messaging and make sure you are sending the right message at the right time, no matter where they are in your pipeline.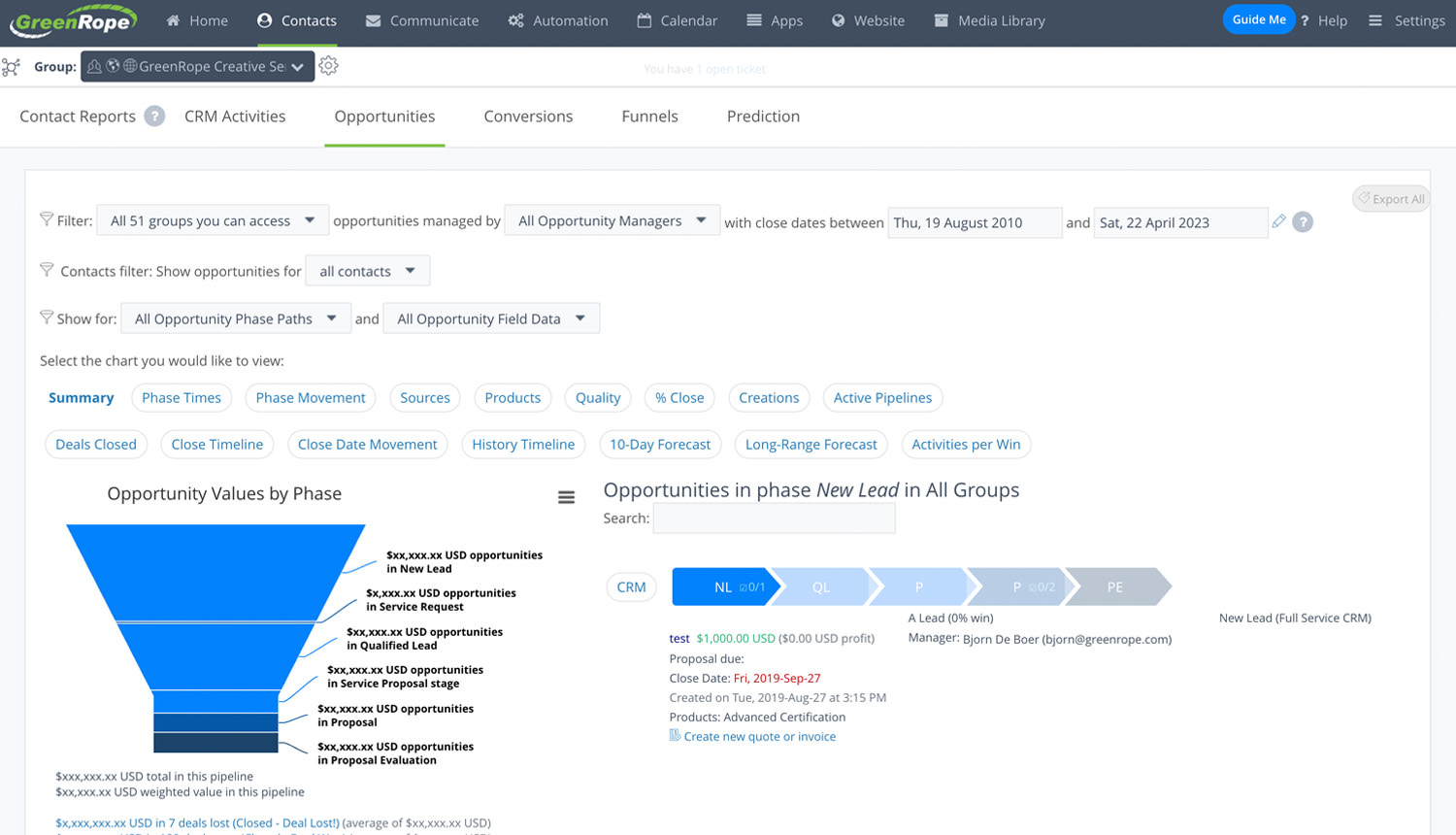 New feature
Complete Reporting
Gain insight into your pipeline and business with easy to read, visual, and downloadable reports. Track performance, analyze efforts and measure success all in one place.
Average 4.9 / 5 support rating
"The customer support is exceptional! They are so great!"
---
GreenRope Team,
Doing great since 2008
World's first Complete CRM
What you get with GreenRope
GreenRope gives you a 360-view of your business across all departments and touchpoints.
Save over 90% total cost of ownership when you invest in powerful, complete CRM.
All-in-One
GreenRope can be used by everyone in your organization from marketing to sales to customer service, and even accounting.
Sales
Powerful sales tools to help you stay on top of your day and convert more leads to long-lasting customers.
Marketing Automation
Marketing automation that's easy to set up, test, and execute.
Amazing
Customer Service
Enjoy 24/7 customer service, plus access to our training, onboarding, and creative teams.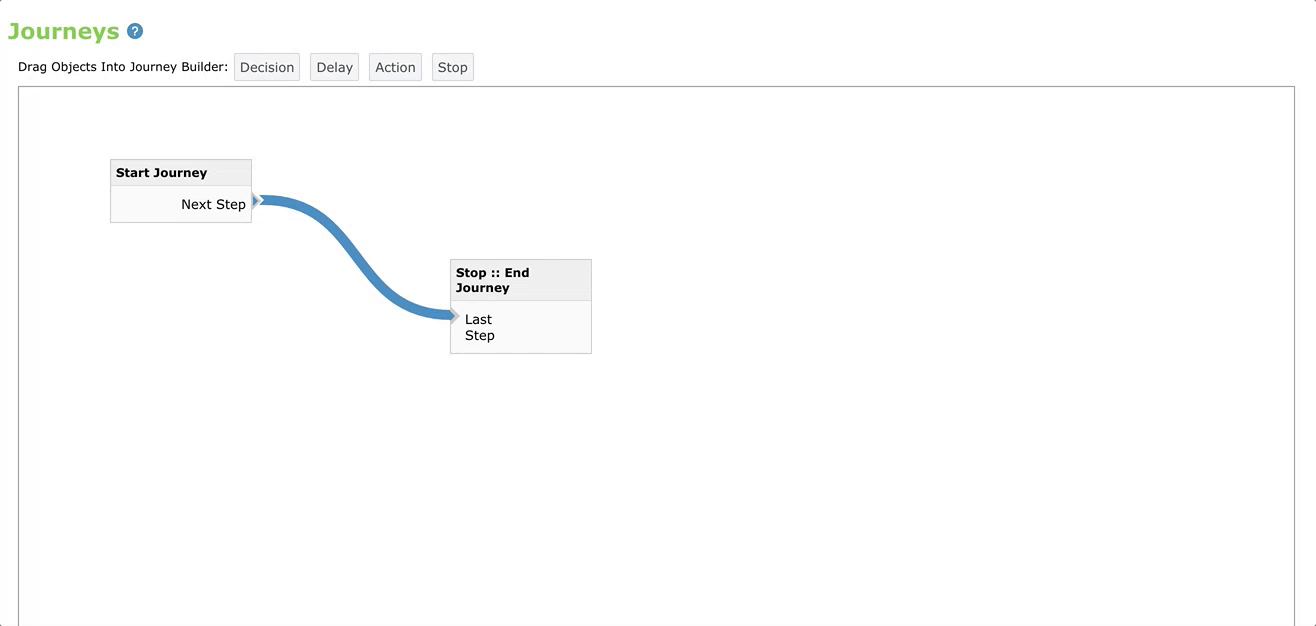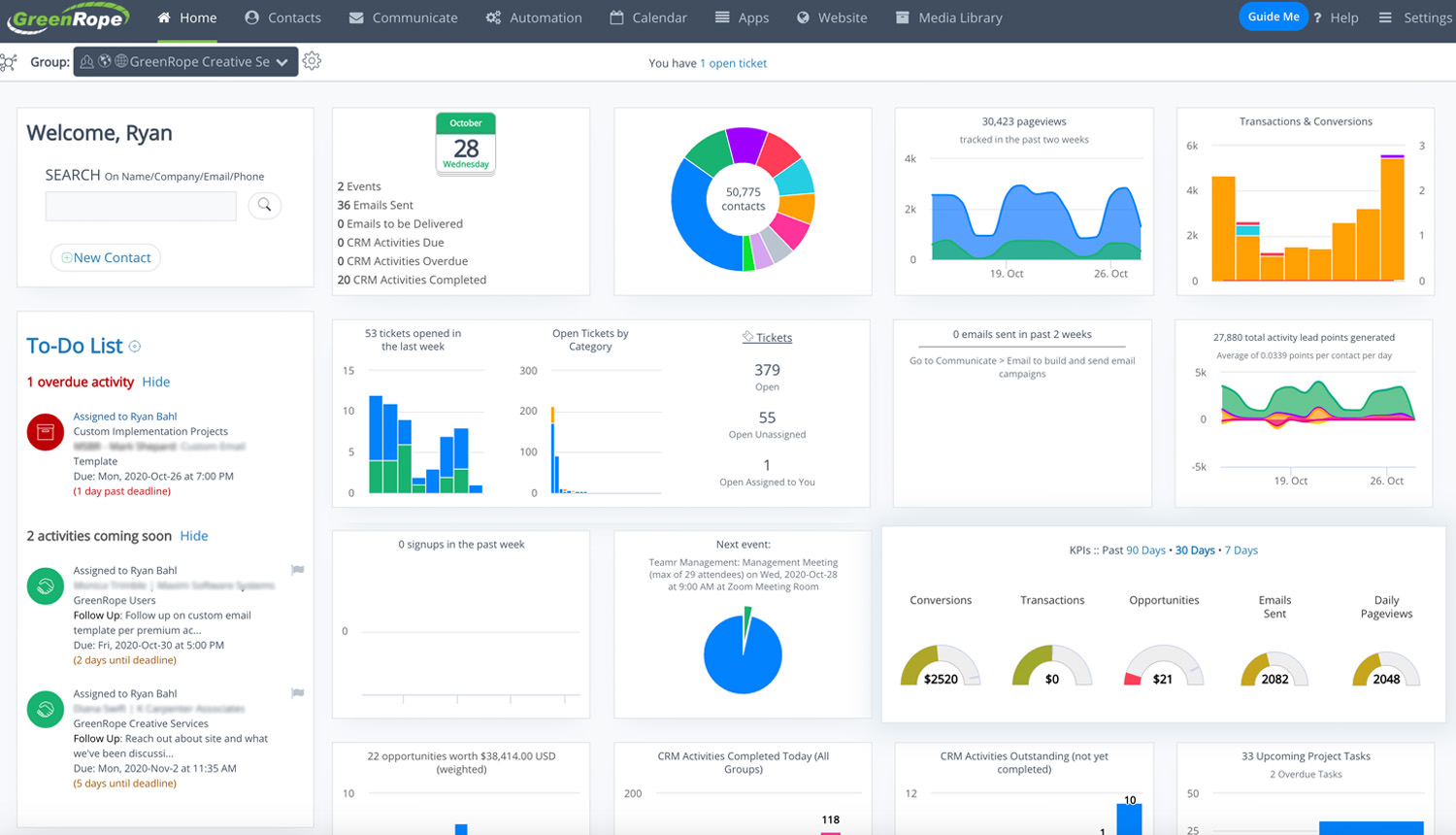 Mobile app included
Make managing and growing your business easier with GreenRope
Great software doesn't have to be expensive. With GreenRope, you have all of the tools in one, single dashboard saving you money, increasing visibility, and making your life just a little bit simpler. When you have an all-in-one solution like GreenRope, you spend more time building your business and less time managing it.
Get Started
Do you have
questions
Looking for answers? Do you have some pre-sales questions? Check out some of our information to the right.
Here are the answers to some of the most common questions we hear from our appreciated customers